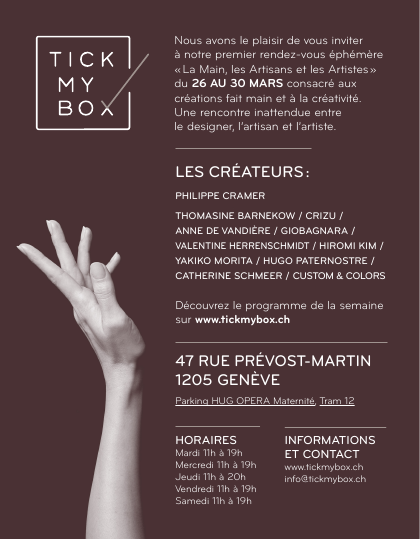 <La Main, les Artisans et les Artistes> by TICK MY BOX
26-30 March 2019 , Geneva, Switzerland

I join in this event as a designer HIROMI KIM. Our work will be shown at the venue. If you are nearby, please visit there!
LA MAIN, LES ARTISANS ET LES ARTISTES
TICK MY BOX met en avant le talent de créateurs en proposant une sélection exclusive et de courte durée. Une rencontre inattendue entre le designer, l'artisan et l'artiste qui nous fait découvrir le travail fait main et la créativité.
—
HAND, ARTISANS AND ARTISTS
TICK MY BOX highlights the talent of creators by offering an exclusive and short-term selection. An unexpected encounter between the designer, the craftsman and the artist who makes us discover handmade work and creativity.